Which Facebook ad should I choose?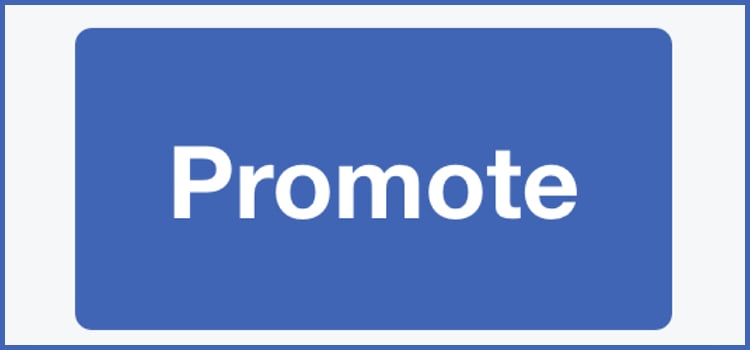 If you choose to go beyond boosting a post, which Facebook ad should you choose?
Three advertising options are available when the blue Promote button is used.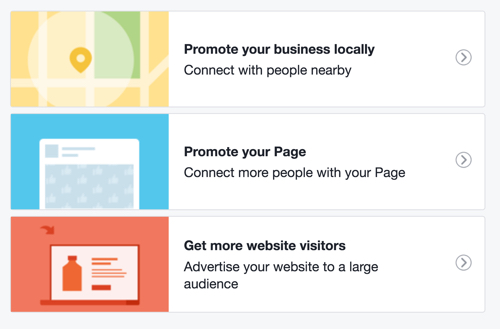 Promote your business locally
This is a great choice for bricks and mortar shops. Gift shops, cafes, pizza parlours and hairdressers.
The great thing about this advertising option is that it gives you an easy ability to choose people within a small radius of your business – you can choose a radius as little as 1km.
You'll need a great image to go with your advert.
If you don't want your ad to show on Instagram untick this option.
With this type of advert you choose if you want people to click through to your website or to like your Facebook page or get directions to your shop.
Promote your Page
This is a good choice for start-ups wanting to get their page known and building up page likes. If your page is a good natural fit for Facebook this type of Facebook ad will help build awareness.
Similar to when you boost a post this advert is easy to set up as Facebook finds all the content (like text and images) from your page. You'll still want to consider who you wish this advert is to be seen by – so consider your Audience carefully.
Here's what a Promote your Page advert looks like. You can see how the call to action button is a "Like Page" with the thumbs up symbol.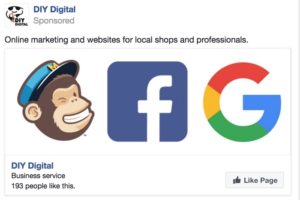 Don't over-use this type of advertising as you may find yourself getting lots of page likes from people who don't have a significant level of interest in your product or service.
Get more website visitors
This is a great choice for many small business owners especially if you have a webpage that has a great offer for first time customers. The website you send your visitors to could be a product you sell in your online shop, a blog article, an event registration page, an online sign up page or a special discount offer exclusive to Facebook customers.
If you don't want your ad to show on Instagram untick this option.
You'll need a great image to go with your advert.  You'll also need a great reason for why people would want stop what their doing and go over to your site.
Like the Promote your Page Facebook ad, consider the Audience carefully.
Editing your Facebook ad
If you wish to duplicate a previous advert or edit a current ad you'd do this from the Adverts Manager area.
You're likely come across the dashboard where you'll see these tabs. Of most interest are the Advert Sets and Adverts tabs.

Advert Set
The options to look out for in this section are
Audience
Placements
Budget & schedule
Audience
The power of Facebook advertising is in its ability to target people according to where they live, what their interests are, how much interest they've shown in your business and a host of other things.
Most small business owners will begin by choosing an audience based on:
Where they live
Gender and Age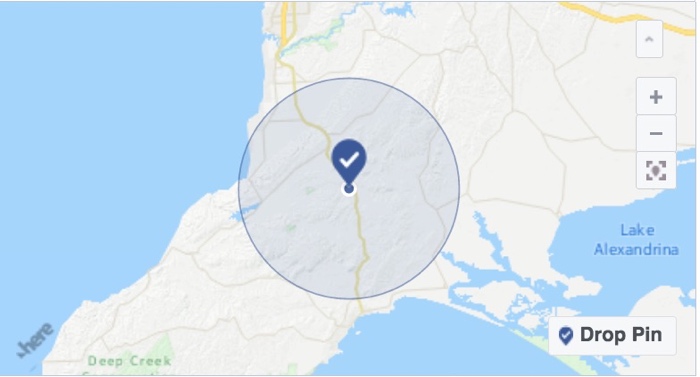 And if you venture further you may even try out the demographics area where you can choose, amongst other things, if people are homeowners or renters or whether they are coffee lovers or prefer energy drinks.
Once you've built your audience you can save it for use next time around.
Facebook also allows you to create audiences that:
Have engaged with your Facebook page in the last 2 months
Visited your website in the last 2 months
It offers even more sophisticated techniques to reach people who are most interested in your product or service. Contact us at DIY Digital if you want to explore these options.
Placements
Facebook will often default to show your advert on all its channels including Instagram, Messenger and the Audience Network. Unless you specifically want your advert to be seen in these places, untick these placements and go with Feeds only.
Budget and Schedule
Budget and schedule is easy to understand. You choose the amount you are prepared to spend a day (often $5/day will suit for a small geographic area) and when you'd like your adverts to be seen (eg. 9am – 5pm or 24/7).
Adverts
This is where the fun stuff happens. In this section you choose or replace the image, choose your headline and write your text.
The image size for most adverts is 1200 x 626. As much as possible use real images from your business (i.e. not stock photos) as these tend to work best.
Preview and Approve
Once you've made your decisions your advert will be sent off to Facebook for them to preview and approve.
Use the contact form or send us an email.
Better yet, call us on 0400 835 161 and let's have a chat.