What is a Google Keyword?

What do people search for in Google that match what you sell?
Whatever that search term is, is the google keyword. And you want to optimise your website for it.
Keyword is a misleading term, as more often than not it's a few words, so keyphrase would be a more accurate term. However it gets called in keyword, so you'll see that term used in most places.
To start the process we recommend choosing four keywords and optimising four different pages on your site with these four keywords (or keyphrases).  Focus on one keyword to one page.
Your first Google Keyword – your Business Name.
The first google keyword you want to rank for is your Business Name.
If your business name is Plympton Tax Accountant then that is your first keyword. Your business name will appear on your website several times so you should, within one month of your site going live, rank on page one on Google for this.  Check with your web developer that your site is indexed with Google if you don't see your site come up on the business name.
Once you've achieved success in getting on page one for your own business name, turn your efforts to the next two or three search terms you feel would be best for your business.  Search Engine Optimisation is a medium to long term marketing activity – so don't expect immediate results.
The next Google Keyword
Choose a competitive, hard word next.  The most obvious phrase is likely to be the best one for your business and likely to be the one that has the highest number of searches.
If you sell coffee, the keyword you choose might be coffee in your city.   Anotherwords "coffee Perth" or "coffee Birmingham".  They'll be lots of other businesses already ranking, or trying to rank on page one for this phrase. But start now and maybe in 2–3 years you can win prime space on Google for this search term.
The next two Keywords
Now that you've got the hardest one out of the way, try for some less competitive ones.  These are likely to be a 4-5 word phrase. This phrase will have the least amount of competition and not as many people searching for it.
Going back to our coffee example, an easier keyphrase might be "best freshly brewed coffee in Adelaide" or "roasted Brazilian bean coffee".
You won't get as much traffic to your website on these terms – but the traffic you do get will be very interested in the product you sell or the service you provide.
Keyword Research
Before you decide upon your search terms, google them yourself and see what websites are already on page one for those two or three terms.  This will give you some idea of how competitive the space is for those search terms.
There are online tools available that can measure how many searches keywords get.  Search volume is usually given as a per month figure at a particular location.  For example "coffee Adelaide" might get 100 searches a month in South Australia.  These reports are a result of keyword research.
It is valuable to do keyword research at the very start, before you begin optimising your site, as it will give you direction for what you write on your website.  Keyword research will generally be valid for 2-3 years, although if you work in a fast paced or highly dynamic environment it might be shorter.  You can find out the words your customers and potential customers use in their online searches.  Keyword research will let you know how many times these phrases are used in searches.
Quantity Matters
How many people are searching for the term in your area matters.  If only 10 people are searching for the term, on average, a month, ranking well on that term may not get you the business you want.  However if 100 or 1,000 people are searching for that term, and you've optimised your website for it, your business is likely to benefit.
There's a bunch of professional tools available to SEO experts.  You can hire an SEO expert to find the perfect keyphrases for your business, or you can sign up to these tools yourself.  However the tools, for example SEMrush, Moz and SERPs, can cost upwards of $50/month to subscribe to.
If you'd like to do your own SEO and benefit from these valuable tools without ongoing costs and lock in contracts, contact us at DIY Digital about our Getting Started with SEO – Keyword Research Package.  This package will get you started without any monthly fees or lock-in contracts.
For a simple research option head over to Google Trends.
Google Trends
Go to https://trends.google.com/trends.
To use Google Trends, enter a search term that you think you might use for your business.
Add in a Search Term.

Wait for it to come up with the results. Then change the location to Australia and then add in another idea in the Comparison field.
Google Trends doesn't give you an absolute search volume, but it does allow you to compare one search term against another.  In the example below you can see the word "teacher" gets a lot more searches than "educator."  It's often the simplest, most straight-forward word or phrase that gets more searches.
What-ever gets the most searches is likely to be the Google keyword or keyphrase you want to optimise your website for.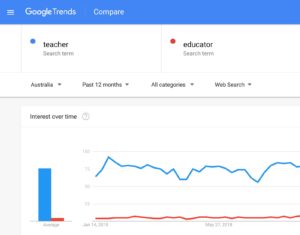 Now What?
Once you've chosen your first keywords (or keyphrases) the next job is to make sure they appear on your website page several times, for example in the page heading, as an image title and in the text of the page.  Knowing where to use them on your website takes time to learn and practice.
Competitor businesses are also using similar phrases in their marketing efforts – so it will take effort and persistence to win with your chosen keyword.
Keep the focus on one search term or google keyword per page. Don't try to mix it up. For example, don't have both ballroom dance shoes and latin dance shoes repeated on the one page. Don't attempt to rank on two google keywords on one page. Have two different pages, one focussed on the search term Ballroom dance shoes and another page focussed on Latin dance shoes.
Too Much?
If you haven't got the time, or you wish to benefit from professional expertise and the professional SEO tools, contact us at DIY Digital about our Getting Started with SEO Keyword Research Package. We'll do the keyword research for you and then demonstrate to you how to use these on your webpages.  Learn how to optimise your website with no lock-in contracts and no ongoing monthly fees.
Use the contact form or send us an email.
Better yet, call us on 0400 835 161 and let's have a chat.
© 2018 - 2019 DIY Digital