What is a Google Keyword?

Google Keyword – what do people search on that match what you sell?
Whatever that search term is, is the google keyword you want to optimise your website for.
Your first Google Keyword
The first google keyword you want to rank for is your Business Name.
If your business name is Plympton Tax Accountant then that is your first keyword. Technically it's a phrase, but it's usually referred to as a keyword when talking about Search Engine Optimisation or SEO. Your business name will appear on your website several times so you should, within one month of your site going live, rank on page one on Google for this (if you don't check with your web developer that they indexed your site with Google).
The next lot of Google Keywords
Once you've achieved success in getting on page one for your own business name, turn your efforts to the next two or three search terms you feel would be best for your business. Choose two or three keywords (or keyphrases) and make sure they appear on your website page several times – in the heading, as an image title and in the page text. It might be a specific product, for example Nike running shoes or it might be a service you provide, for example Noarlunga plumbers.
Before you decide upon your search terms, google them yourself and see what websites are already on page one for those two or three terms.  This will give you some idea of how competitive the space is for those terms.
Quantity Matters
How many people are searching for the term in your area matters.  If only 10 people are searching for the term, on average, a month, ranking well on that term may not get you the business you want.  However if 100 or 1,000 people are searching for that term, and you've optimised your website for it, your business is likely to benefit.
There's a bunch of professional tools available to SEO experts who you can hire to find the perfect keyphrases for your business.  However these tools, for example SEMrush, Moz and SERPs, can cost upwards of $50/month to access.  If you'd like to do your own SEO and benefit from these valuable tools without ongoing costs and lock in contracts, contact us at DIY Digital about our Getting Started with SEO – Keyword Research Package.  This package will get you started without any monthly fees or lock-in contracts.
Alternatively have a go with the the free Google Keyword Planner.
Accessing the Google Keyword Planner
Warning – accessing this tool can be tricky – you may need to try several methods before the right one works.
If you already have a Google Ads account and you are signed in, go to https://adwords.google.com/KeywordPlanner. This usually works – follow the prompts from Google and be prepared to sign in more than once.
If you don't have a Google AdWords account, Google may insist, during the sign up process, that you create an account and an advertising campaign before you can access this keyword planner tool.  You can avoid this by skipping the guided set-up.

Take a look at this video to show you how to avoid the guided set-up. This video uses an older version of the keyword planner tool, so you might find once you get there it looks slightly different – but the first 2.40mins of this video is the most current we've been able to find for the all important skip the guided setup.
If you accidentally go through this process and create an advertising campaign you can pause it as soon as it has been developed.
For Google AdWords account holders the sign up process and access to the keyword planner tool is likely to be more straightforward, however even then you may find it difficult to find.  Look for the wrench Tools icon, top right. And find Planning>Keyword Planner.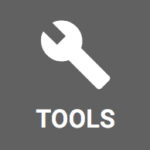 If you don't see the Planning option in the drop down list from Tools, click around your Google Ads dashboard until your dashboard looks something like below. Click on Tools again and the Planner menu should then become visible.

Watch out for Google Adwords Express
You may find Google navigates you to Google Adwords Express.  Google AdWords Express is different to the standard Google Ads.  You will be unable to access the keyword planner from Google Adwords Express.
You may find you are navigated to the home, security, dashboard or account settings page.  This is where it can be a bit tricky.  Keep trying and if all else fails have a cup of tea and start again tomorrow!
Using the Google Keyword Planner
Once in the keyword planner you have a choice of two areas – both areas give you good results – but we'll focus on the Find Keywords option.
Find Keywords – website
The coolest feature of this tool is entering in your website address.  Copy your website URL and paste it into the Find Keywords box.

Choose entire site.
Click on the Blue "Get Started" button.
And wow – look at what you have – a list of search terms, with the search volume, on average per month, for a selected location.  Good isn't it?
If you prefer to watch a video, here's a video that demonstrates how to get to the newer keyword planner tool and the 3 top things you want to do when you get there.
Top 3 things to do in Find Keywords
The top 3 things you're likely to want to do in the Find Keywords tool is:
Sort by Avg. monthly searches column
Choose your location
Download data
Sort by Avg. monthly searches column
Click on the column heading so that you can see the highest search volume keywords or keyphrases.
Choose your location
It's likely to default to Australia.  If you sell nationally across Australia this is fine – keep it as it is.  But if you wish to drill down to your state, go to the top left and hover over locations.  When you do the edit pencil tool will become visible – click on this.
This opens up the ability to choose your location.
Here's an example of choosing a location for Adelaide.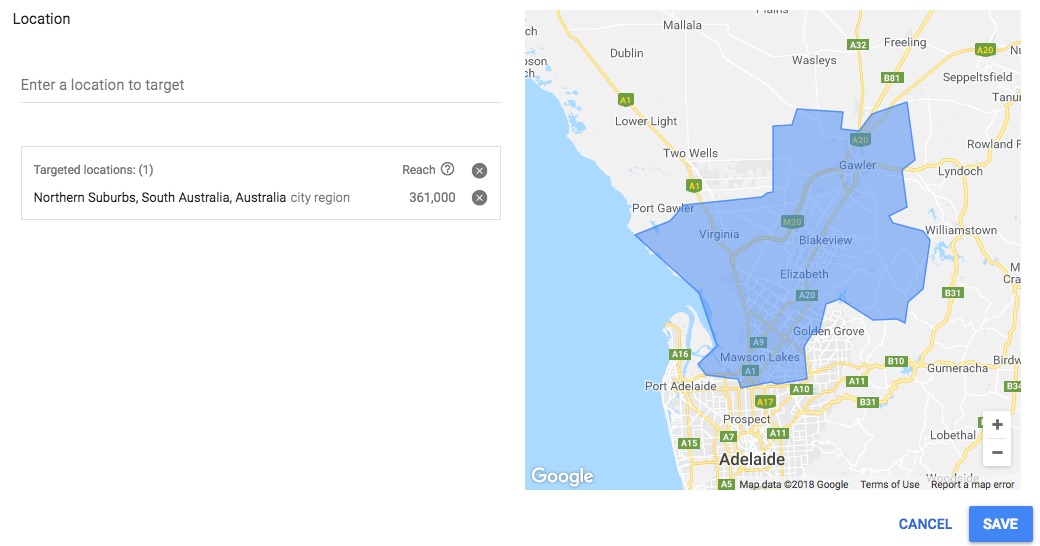 Download Data
On the top right there is the blue text "Download Keyword Ideas" – click on this to generate a .csv file (can be opened in Excel).
Find Keywords – test ideas
You can also test your own ideas without using a website. Enter in three terms with a comma and space between each search term.  Below is an example of three ideas you might try if you sell Gift Baskets. Click on the blue "Get Started" button.

In the same way as we did above, check these 3 things:
Sort by Avg. monthly searches column
Choose your location
Download data
Interpreting your results
Here's an example where we looked for ideas and search volume for dance shoes.  Below are the ideas we entered:
dance shoes
ballroom dancing
ballroom dancing shoes
latin dance shoes
ballroom dance shoes
specialist dance shoes
best dance shoes
best ballroom dancing shoes
latin dance shoes for men
latin dance shoes for women
This is the result returned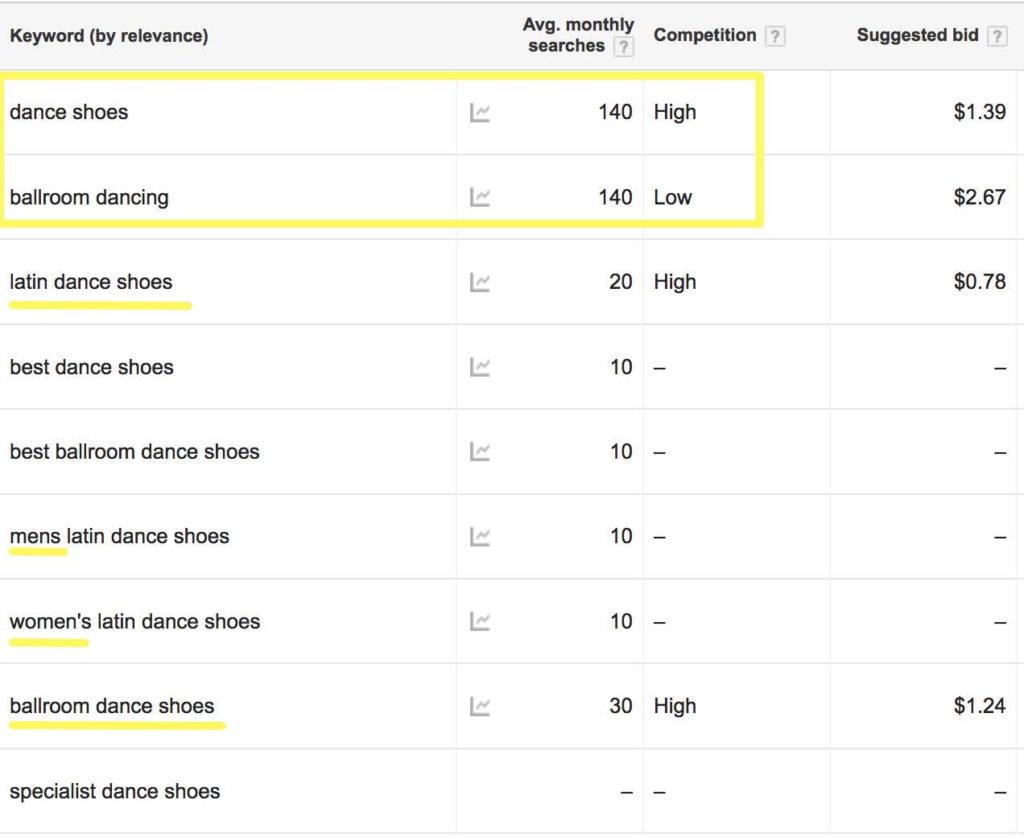 Dance shoe example – results
The two best keywords for this business are:
Dance shoes
Ballroom dancing
Both of these phrases attract 140 searches per month in the city of Adelaide. This business would do well to use these two keyphrases in product descriptions.  They'd use these terms as headlines, page titles, image names and link text on pages.
We can see the competition is higher for dance shoes (high) than ballroom dancing (low). A business starting out on its SEO journey may do well to pick the phrase that has less competition. Once they've mastered that, they may like to move on to meet and eventually beat their competitors in the more difficult keyword space.
The next two terms are
Ballroom dance shoes (30 searches a month)
Latin dance shoes (20 searches a month)
So Ballroom beats Latin by just a little. But both could work as a secondary focus for this business,
This business could focus one page with the search term "Ballroom dance shoes" and another page on the search term "Latin dance shoes".
Competitor businesses are also using these phrases in their marketing efforts – so it will take effort and persistence to win in this space.
Keep the focus on one search term or google keyword per page. Don't try to mix it up. Don't have both ballroom dance shoes and latin dance shoes repeated on the one page and attempt to rank on both of those google keywords using that page. Have two different pages, one focussed on the search term Ballroom dance shoes and another focussed on Latin dance shoes.
Other take-aways from this report are:
Men's latin dance shoes and women's latin dance shoes rank the same.
Specialist dance shoes doesn't rank at all.
Too Much?
If the Google Keyword Planner ends up being too difficult to use, you haven't got the time or you wish to benefit from professional expertise and the SEO tools, contact us at DIY Digital about our Getting Started with SEO – Keyword Research Package.
Use the contact form or send us an email.  We'll get back to you within 1 working day.
Better yet, call us on 0400 835 161 and let's have a chat.