Can you get on Page One on Google without a website?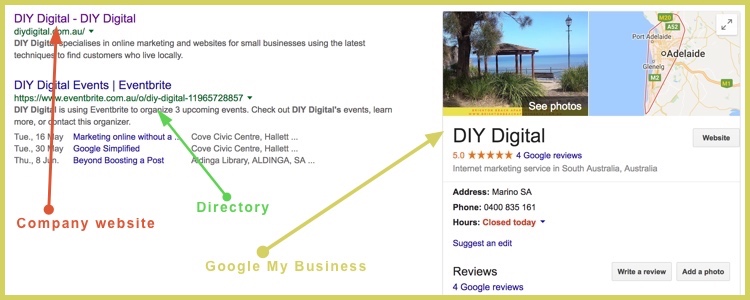 Can you get seen on Google without a website?
Surprisingly yes, you can.
It's called Google My Business and it's connected with Google Maps.

In the above picture you can see three examples of being on page one on Google.
Company website
Directory
Google My Business
The main and most prominent listing is Google My Business. The picture, the map and 5 star review give this listing a fantastic prominence.
Google Maps
First things first, you'll need to get your business listed on Google Maps. Head over to our article with a video tutorial to show you how, if you haven't already done this.
Google My Business
Once you have listed your business with Google Maps it's time to turn your focus to Google My Business. Listing with Google Maps is likely to have created the Google My Business listing. But if you've got lost and you're not sure how to get back there, go to https://www.google.com/business and sign in using your Google account
You can edit, change and update your business details in your Google My Business area, including:
Opening hours
Category of business
Photos
Reviews
It's great to get reviews on Google. The Google reviews become part of the Google Business listing. Not only are reviews great for customer relations they'll help you get seen on Google when people are searching for you.
Time
Getting on page one on Google takes time. It may take 3 – 6months for your Google My Business listing to show up on page one when people search in Google using your business name. If it takes longer than this, you may need to put energy into:
getting reviews
adding photos
updating information
Directory
Being listed in a high ranking directory, in the example above the directory is EventBrite, is another way of getting your business on page one without a company website. Head over to our Online Directories article to glean what directories could be valuable to your business.
As with Google My Business, keep your directory listing up-to-date and add in plenty of information and images as allowed.
Need help with your Online Marketing? Let us help.
Getting Googled by Google?
If google is confusing you, click on the play button on video tutorial below – the Ultimate Beginner's Guide to Google for Small Business Owners.
Subscribe to our newsletter to keep getting plenty of great online marketing hints 'n tips.
Use the contact form or send us an email.  We'll get back to you within 1 working day.
Better yet, call us on 0400 835 161 and let's have a chat.