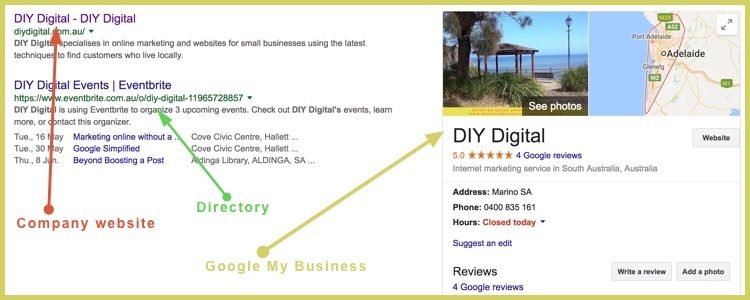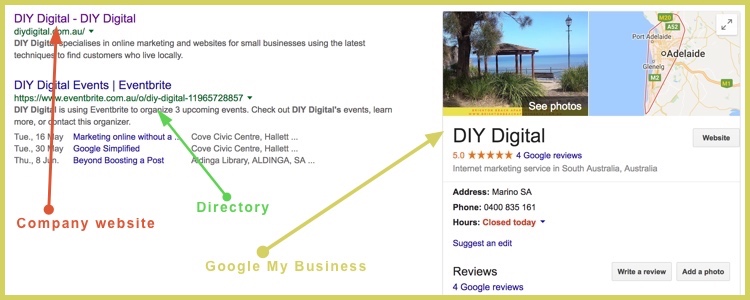 Can you get on Page One on Google without a website?
Surprisingly yes, you can.
It's called Google My Business and it's intertwined with Google Maps and Google +.

In the above picture you can see three examples of being on page one on Google.
Company website
Directory
Google My Business
The main and most prominent one is Google My Business.  The picture, the map and 5 star review give this listing fantastic prominence.
Google Maps
First things first, you'll need to get your business listed on Google Maps.  Head over to our video to show you how, if you haven't already done this.
Google My Business
Once your business is listed on Google Maps it's time to turn your focus to Google My Business.  If you're not too sure how to get there, go to:
https://www.google.com/business
and sign in using your Google account
You can edit, change and update your business details in the Google My Business area, including:
Opening hours
Category of business
Photos
The information you add in your Google My Business listing appears on:
Google Search
Google Maps
Google +
Google Search is what most of us just call Google.  It's their main search engine.
Google Maps you'd be familiar with if you've ever used it to find directions somewhere.  Have you used it to find pizza places near you, or something similar?  Many people have.
Google+ is Google's social media channel and allows you to post articles about the services your business provides or knowledge you wish to share with others.
Reviews
It's great to get reviews on your Google My Business listing – not only does this let potential customers hear from other customers about your great products and service, it will help rank your page on Google when people are searching.
Time
Getting on page one on Google takes time.  It may take 6-9 months for your Google My Business listing to show up on page one when people search in Google using your business name.  If it takes longer than this, you may need to put energy into:
getting reviews
adding photos
adding information
posting content and being active on your Google + page
Search Term (or keyword)
Search terms or keywords are part and parcel of ranking on Google.  There are many online articles that talk about this and many small business owners find it difficult to navigate their way through this information.  But first things first.  And the first thing is you want to get on page one on Google for your own Business Name.  If your business name is Plympton Tax Accountant then that is your keyword.   Once you've achieved success in getting on page one for your own business name, then turn your efforts to the next 2 or 3 search terms that you feel would be best for your business.
Directory
Being listed in a high ranking directory, in this case EventBrite, is another way of getting your business on page one without a company website.  Head over to our Online Directories article to glean what directories could be valuable to your business.
As with Google My Business, keep your directory listing up-to-date and add in plenty of information and images as allowed.
Need help with your Online Marketing?  Let us help.