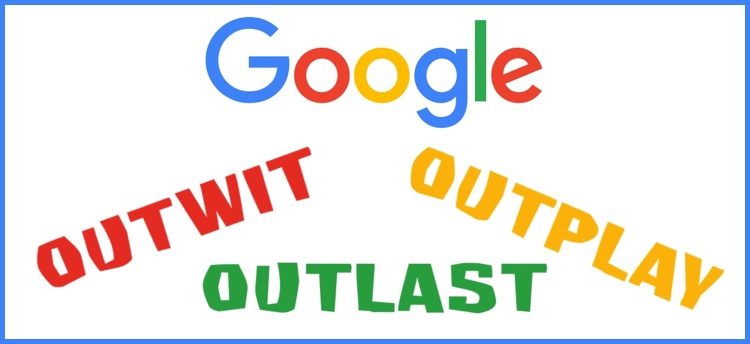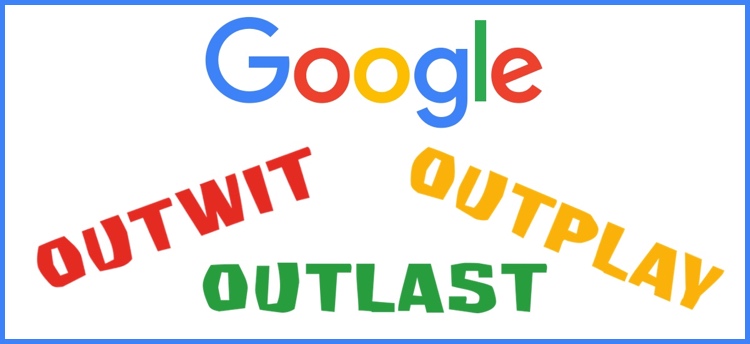 It's a jungle out there  – getting on page one on Google is no easy feat!
Can you outwit, outplay and outlast on Google?

You probably can't outwit Google  – but you can outwit your competitors.  Getting your website ranking on page one on Google is the aim.  Outwit your competitors by outranking them.  How do you rank better than your competitors?  It's called Search Engine Optimisation or SEO and it's complicated.  So let's simplify it to the top 5:
Google Maps
Search Terms
Speed
Mobile Friendliness
Google Search Console and Google Analytics
Google Maps
Google Maps is part of the Google My Business (also called Google Local) and is top of the list for local shops and small businesses.  It's so important we've dedicated an article and a video to it.
Search Terms (or Keywords)
What do people search on that match what you sell?  That's the keywords you want to optimise your site for.
But first things first.  Firstly you want to get on page one on Google with your own Business Name.  If your business name is Plympton Tax Accountant then that is your keyword.  This name needs to appear in your website several times – and in all likelihood it will – so you should, in time, be on page one on Google for this.
Once you've achieved success in getting on page one for your own business name, turn your efforts to the next two or three search terms you feel would be best for your business.  Choose two or three keywords and make sure they appear on one of your website pages several times – in the heading, as an image title and in the page text.  It might be a specific product, for example Nike running shoes or it might be a service you provide, for example Noarlunga plumbers.  This can be hard to achieve and this is where you need to be better than your competitors – you need to outwit them.
Before you decide upon your search terms, google them yourself and see what websites are already on page one for those two or three terms.  Use a tool like the Google AdWords Keyword Planner (or ask your website developer to do this for you) to see how popular the phrase is as a search term.
Speed of site
The speed of your site will impact your rankings on Google.  You can use a site like pingdom to test the speed of your site
If it is too slow, consider speaking to your web developer about methods to quicken your page load speed.
Mobile friendliness
How well your site performs on different devices (i.e. smartphones, tablets and desktops) will impact your rankings on Google.  Test your site's mobile friendliness here.
Google Search Console and Google Analytics
Use your brainpower and begin learning and understanding how to find and use Google Search Console and Google Analytics.  They're both free to use.  Connect your website to these two resources and begin your journey of discovery.  Don't expect to understand these tools in one go, give yourself a little homework each month to learn them bit by bit.
Over time you can expect the research and analysis to help you outwit your competitors in your Google rankings.
Subscribe to our newsletter to keep getting plenty of great online marketing hints 'n tips.

To outwit competitors small business owners will likely need to call in the expertise and resources of their web developer.  However to outplay them is all in your hands.  Here's our top 5:
Refresh your content
Demonstrate what you know
Link from your social media to your website
Get other people to link to your website
Get reviews
Refresh your content
Google rewards websites that are refreshed and updated.  If your site is languishing with old content and hasn't been updated in a year, Google knows.  A blog is a great way to update content, but not the only way.  You can update information on pages, update products and images.  Don't let your website be a set and forget proposition – keep it fresh.
Demonstrate what you know
The best way to do this is through a blog.  Blog articles let you talk about what you know.  By their nature they require text, and Google loves text.   If the text is about products and services you provide, people will start finding your website through your blog articles.
If you're not able or interested in having a blog, you can demonstrate what you know about the products and services you sell through videos or product pages on your site.
Link from your social media to your website
Drive your social media fans to your website.  Link to your website from your business Facebook page at least once a week.
Get other people to link to your website
Surf the web for compatible businesses and see if they will link from their site to yours.  It could be a directory listing or a comment on an online article or a submission into a discussion.  It could be a suppliers website or an interstate or overseas partner or parent company.  Reach out and make your business visible online.
Get Reviews
Get reviews on your Google My Business (or Maps) listing.  Try for one at least every three months.  If you're not convinced read more here.

It takes about 6-9 months to rank on Google Local with your business name after you've listed and verified it on Google Maps.
It takes, on average, almost 3 years to rank #1 on page one in Google with your website.  Read more here.
Win with Google
Outwit, Outlast and Outplay
Game On!