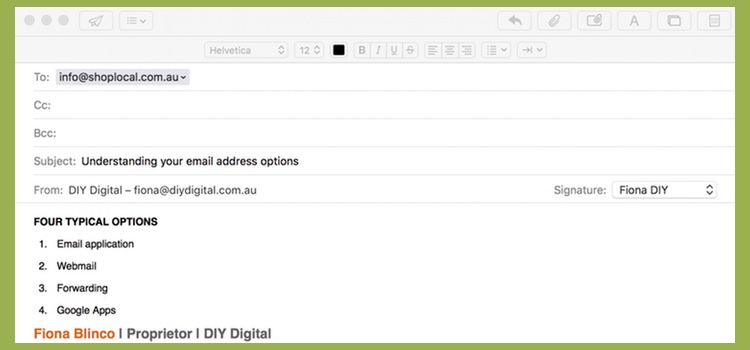 Why have a business email?
A business email is an email address that uses the domain name of the website after the "@" (at) sign.  For example;
| | | |
| --- | --- | --- |
| WEBSITE | EMAIL | BUSINESS EMAIL |
| www.shoplocal.com.au | info@shoplocal.com.au | Yes |
| www.shoplocal.com.au | sales@shoplocal.com.au | Yes |
| www.shoplocal.com.au | shoplocal@gmail.com | No |
| www.localclub.com.au | secretary@localclub.com.au | Yes |
| www.localclub.com.au | localclub@icloud.com | No |
| www.localclub.com.au | localclub@outlook.com | No |
Benefits
The key benefit of having a business email is that it makes you look like a professional.  Customers and potential customers will view you as a serious business owner rather than a hobbyist or amateur.
In addition, verification processes with online platforms such as Google and MailChimp, are often a lot easier.  Sometimes you need to verify that you are the owner of a domain name and if you own an email address associated with the domain name this is often a straight-forward process rather than being very difficult.
How do you get a business email?
Once upon a time a business email was often given to you at the time of setting up your website hosting.  Web and email hosting was often one in the same.  Nowadays this is no longer the case.
Email hosting has now come down to two main providers:
The benefit of Gsuite and Office 365 over the old web cPanel emails is they are technically superior. It is highly unusual to have problems such as emails not working or an inbox being full, as can, and does happen with other email systems. They are very user friendly and allow for excellent tracking, coding and formatting of business emails.
GSuite
Gsuite is a Google product and costs AUD$100/year per user.  It also provides a collaborative calendar tool and central place to file documents for the team. The calendar and document drive are included in with the cost of a business email.
More info about Gsuite here.
Office 365
Office 365 is best known for providing email with Outlook. The Business Essentials package, which is essentially the business email without Word and other applications is AUD$91/year.  Like Gsuite it syncs emails, calendars, and contact information across devices.
More info about Office 365 business email here.
Business email and websites
If your website has a contact form, such as the one below, there can be, and often is, problems with the emails getting to your inbox when someone fills the form in. A business email (rather than a free gmail, hotmail or yahoo one) will often fix the problem.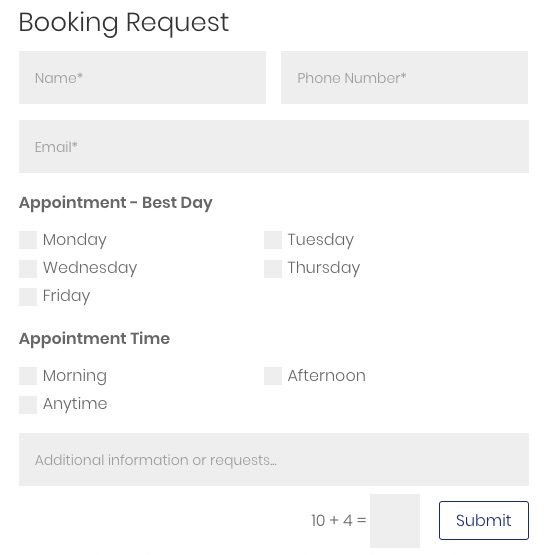 cPanel emails just don't cut it anymore
If you've had a business email address for a few years it's likely it was set up with your web hosting cPanel.  If you are struggling with IMAP and POP email addresses this indicates you are likely to be working in the old web hosting cPanel arrangement.
If you have a contact form on your website, and you've run into recent issues with it not working, the cPanel could be the culprit.  As the email providers tighten their spam filters, business owners are finding they aren't receiving the emails from the websites they use to. Moving over to Gsuite or Office 365 business emails is often the solution.
Gmail and hotmail just don't cut it anymore
If you don't have a business email address and you're using gmail and hotmail addresses you run the risk of not looking like a serious business owner. They also don't give you the technical capabilities available with professionally cloud hosted emails.  If you haven't moved over yet, it's likely only a matter of time.
Sign Up for Newsletter
If you would like to receive more practical info like this, subscribe to the DIY Digital newsletter.
Use the contact form or send us an email.
Better yet, call us on 0400 835 161 and let's have a chat.
"(Required)" indicates required fields
© 2018 - 2021 DIY Digital