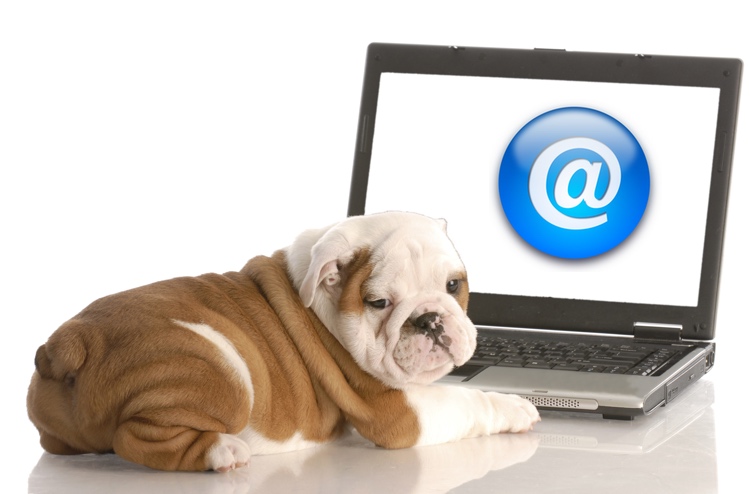 If you are the proud owner of a domain name email addresses and the inbox is full what can you do about it?  Here's a short trouble-shooting guide to help you work out how to empty your inbox without losing your important emails.
Sort by size – inbox
Most email programs will allow you to sort by date, who the email is from and by size.  Usually the large emails will have attachments on them (you'll see a paper clip symbol alongside the name or subject of the email – this indicates the email has an attachment).  It's the attachments that are generally the culprits when it comes to large emails.
If you want to keep the email, open it up and save the attachment to a folder on your computer.  Once safely filed away delete the attachment from the email.
If the don't need to keep the email or its attachment, delete the whole email.
Sort by size – sent folder
When housekeeping your email it's easy to forget there's a whole lot of emails in the sent folder.  Go through the sent folder in much the same way as the inbox – sort by size and identify which emails and/or attachments can be deleted.
Sort by date – inbox
Back to our inbox and sort by date.  Remove all emails from 6 months or longer, or what-ever timeframe you are comfortable with.
Still not able to send or receive emails?
If you are still having trouble sending or receiving emails after cleaning up your emails your troubles may not be because your inbox is full.  A bit more housekeeping may need to be undertaken.  Have you tried;
Waiting 5 minutes
Turning your computer off and on again
Waiting 2-3 hours
Often it is a small glitch that can cause issues with no apparent reason and the simple steps above can sometimes get the email system up and running again.  A cup of tea sounds good!
Check your internet connection
Double checking your internet connection may assist if you need to bring in IT help.  Your IT person is likely to ask you, so go through a few checks to see how your internet connection is behaving.  Here's a few things you can do;
Look through your inbox and determine if you are receiving emails from anyone at all
Look at and note down the time of the last email that was successfully received
Can you open up the white pages (www.whitepages.com.au) online and search for a person you know successfully?
These quick checks will give you a sense of how wide the problem is.
You're sending emails ok but you aren't receiving them
If your inbox is no longer full and you are able to send emails ok but you are having trouble receiving emails, here's a few things to consider;
Has the person sending you the email put ".ua" instead of ".au" at the end of the email address?
Did they leave off an "s" or "n" or another letter?
Are the emails landing in your spam or junk folder?
Are your emails landing in your promotions or forums folder?
A number of email providers such as gmail and hotmail may automatically re-direct an email to folders they have set up, such as junk or promotions.  If you haven't discovered where these are in your system yet, take a look around and find out how your emails are set up.
Is the problem wider than your email?
Sometimes the problem can be wider than your email.
Has there been a new spam filter or firewall installed in your office, shop, business or home?
Are there other things that are working differently or going wrong with your computer?
Thinking about these wider issues may assist if you need to bring in IT help.
Get started with your MailChimp campaign
Use the contact form or send us an email.  We'll get back to you within 1 working day.
Better yet, call us on 0400 835 161 and let's have a chat.